The 5 Most Common Repairs To Garage Doors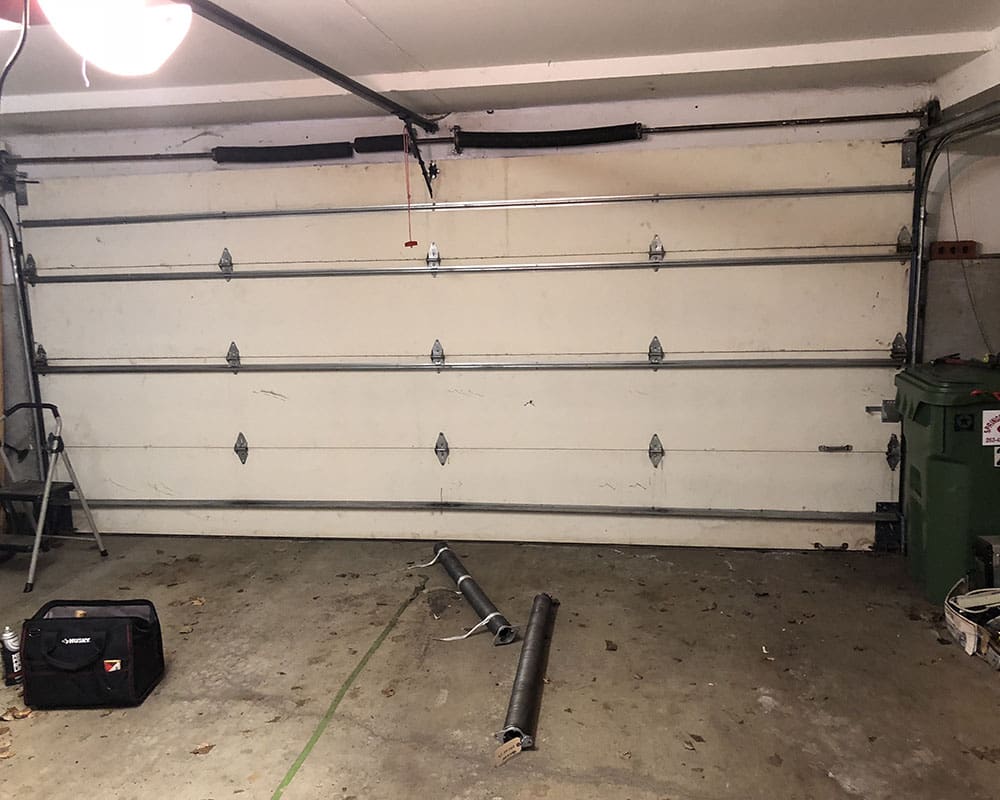 Most homeowners don't even worry about their garage doors unless something goes wrong. It may start with a creaking or groaning that keeps getting louder or you may notice your garage door to start opening and closing slowly.
The reality is that all these problems can be avoided or prevented with regular maintenance. However, most homeowners don't even consider it since everything is working fine.
So, when you notice any of these signs, you need to try and figure out what is happening with your garage door.
#1: Noisy Operation:
When you start noticing that your garage door is making loud noises, you need to act fast. This may be a sign that a part is broken or something is in need of lubrication and may require servicing.
It could be the result of worn-out hinges. The truth is that as the rollers keep running in the metal tracks, these also wear out gradually which can become very noisy when their bearing isn't rolling as smoothly as it once was.
#2: Door reverses before it closes:
If your garage door reverses before it completes the close cycle, the opener could be sensing an obstruction. There could be a physical object like a garbage can or a toy in the doorway. A buildup of debris on the tracks could also be preventing the rollers from moving forward.
If there is no physical obstruction, the force margin might need to be adjusted and retested.
#3: Faulty or worn-out Garage Door Opener:
Most garage door openers should last about 10 years. But if you carry out regular servicing, it is possible to get 15 or 20 years from a good Garage door opener.
So, when you press the button to open or close the garage and it doesn't work, besides checking the batteries of your remote control and the door panel, it is also important to check for an unresponsive opener. It can point to problems with the opener's logic board or wiring. While they can be fixed with spare time and spare parts, it is often easier and more reliable to replace the motor.
#4: Worn-Out Torsion Springs:
Whenever you open or close your garage door, you are using springs. So, since they are always under pressure, it is natural that they need to be replaced from time to time. These springs can only be used for a certain number of open and close cycles and eventually will need to be replaced.
If you happen to be at home when these break, you may hear a loud bang. Garage doors can be quite heavy, but it is these heavy-duty springs that do most of the heavy lifting.
So, whenever you notice that you struggle to open the garage door or when you have a manual garage door you notice that you need to push harder to open it, this may mean that you need to replace the springs.
Once the springs break, the tension is put on the lifting cables which often break next. This may require replacing the lifting cables as well.
#5: Damaged Garage Door:
Damage to your Garage door can be caused due to vehicular collision or due to storm or hail impact. Apart from marring the aesthetic appeal of your property, it can also become an easy target for burglars as your security is compromised. Besides a dented door may put more strain on the motor, springs and the tracks leading to further costs.
Depending on the type of door and the degree of the damage, either a panel may need to be replaced or the worst case may need the entire door to be replaced.
Regardless of the above issues, you are best to contact a Garage Door Company who can diagnose and fix these issues promptly.