Timber and Timber Look Garage Doors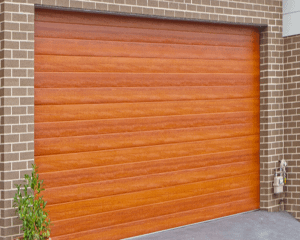 When you are looking for high-quality garage doors, many people still keep thinking about stainless steel garage doors. However, if you are looking for a different and more beautiful option, you could consider timber or timber look garage doors without the price tag, hassle and maintenance of real timber.
Timber garage doors are made of solid wood. They feature a solid sturdy frame made from red cedarwood.You can update the look of your home by re-staining your door by choosing a new fresh finish. Red cedar is one of the most sustainable and eco-friendly building products. They are produced using less energy leading to fewer greenhouse gases, less water and air pollution. With an all-natural appearance, they are durable and solid. They are however expensive, susceptible to rots and termites and require more maintenance to keep them looking fresh and clean.
Timber look garage doors, on the other hand, are made from synthetic materials and metal like Colourbond steel. The main benefit of timber look doors is that unlike timber, these doors require very little hassle and maintenance of real timber. It is strong and hard-wearing with no need for resealing or ongoing maintenance. As it is made of Colorbond steel, the production costs are lower. The panelling can be applied to a wide range of doors. The other benefit is that as there is no timber, there are no termites. They are completely termite resistant. They also don't rot, warp or split. As they are made of long-lasting materials, the only maintenance required is the occasional wash with soap and water beside an annual service. However they may not look exactly 100% like a timber door and replacing the colouring and finishing may be time-consuming and costly.
You can get these if you are considering sectional overhead garage doors or roller garage doors. It all depends on your personal preferences.
The Timber look doors come in various colours like Golden Oak, Dark Oak, Mahogany, Wenge, Classic Cedar and Caoba.
No matter what you choose, the fact is that these garage doors have an unmatched and natural beauty of premium finishes.